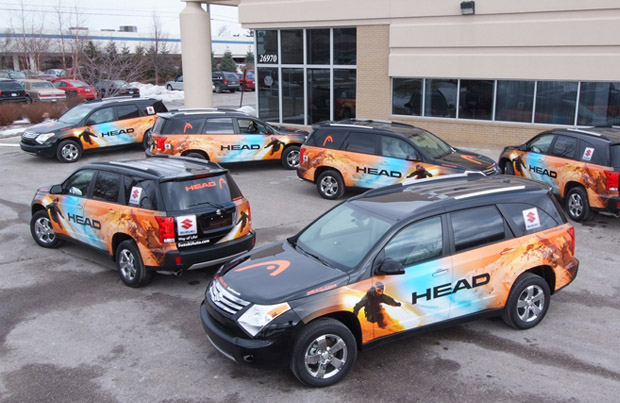 Visuals Of Vehicle Wraps Designed For HEAD
The HEAD marketing team pursued me to assist on a multitude of marketing collateral due to their lack of designers in-house and to ensure branding was managed. Utilizing visuals of the top notch HEAD ski and snowboard team members in collateral, advertising, signage, banners and more makes us strive for the excellence their team exudes. Included in our HEAD portfolio is only a small cross section of the marketing material we have created for the HEAD team.
Working closely with the HEAD marketing department, our involvement has been designing ads from start-to-finish or simply editing ad sizes for different magazines like Mountain Magazine, NSAA, Ski Magazine, Snow Magazine, Killington Magazine and more. All of the magazine ads included in our portfolio were designed by us except for the Cool Earth and Lindsey Speedoholic ads and generally the copy and direction for the ad is provided to us from the HEAD marketing team.
The initial direction, content and photos for the signage and collateral are provided from the HEAD team, and our job is to design the visually appealing marketing initiatives that speak to the brand. Our attention to detail for HEAD and other clients is second to none because we know errors in prepress and follow-through are critical to timing, and the end product.
OUR GOAL IS TO MAKE YOUR COMPANY SUCCESSFUL, so if you feel that we can assist in these types of marketing initiatives, please review the HEAD Wintersports Portfolio section.